How can regular Web Videos
Earn You Extra Money and produce Better Branding Results?
Answer:
Simply surround any video with relevent ads and information!

Want to know more? Here's a personal video message just for you from Internet Marketing Expert, Dr. Joe Vitale:
Video Code Maker is easy to use and navigate - it's a very simple and straight forward tool. Would you like to see how easy?


CLICK TO WATCH THE VIDEO TOUR


From: Nerissa Oden
RE: Video Code Maker
Hello, fellow video enthusiasts and Internet marketers! My name is Nerissa Oden (aka. 'The Video Queen'), and I have some great news for you! You may not know it yet, but there is a revolution going on in web video advertising and marketing right now. Advances in technology - such as: improved compression codecs, streaming audio/video and the increased availability of broadband Internet access - are all adding up to make web video more popular than ever before.
And This Means MORE PROFITS to Your Bottom Line When You Take Advantage of the Awesome, Viral Marketing Capabilities of Web Video!
I'm willing to bet you've seen viral video in action already. If you've ever forwarded a funny video clip to a friend, received a video by email or downloaded a favorite at sites like viralvideo.com or Ifilm.com... well, you're already on the bandwagon!
And if you're the marketing-minded type...you've no doubt considered releasing a viral video of your own . Maybe you've got a video introduction or video testimonials on one of your web sites?
Up until now, though, there was just one problem....There was no way to truly MONETIZE your web videos.
ENTER THE SOLUTION:

A Video Coding Tool That Can Marry YOUR Money-Making Advertisements to Web Video and Audio!


Intro price $39 is a limited time offer. Regular price $69

Includes:
Immediate Download
Free Support
Free Updates (Version 1.1 - 3.0)
Secure Ordering
Money back Guarantee




Just Imagine Making Videos Look and Act the Way YOU Want Them To When You Use My Custom Video HTML Code:
Marry your videos and movies to ads and custom messages!
Make custom HTML code for your video and audio clips that can me married to your custom images, banners, email opt-in html and Google AdSense ads!
Post videos to the web using the free version
Take control of your media! Link, embed, link to embed with banner or image.
Want to learn more? Look at this screenshot below...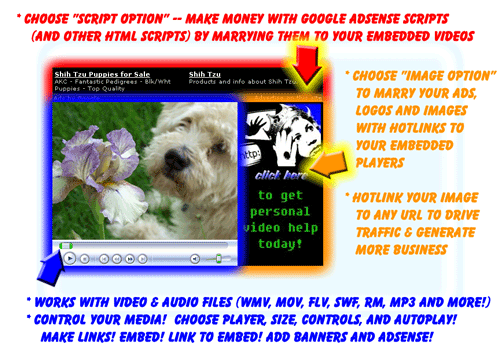 Pretty cool, huh? ;-) Cool and profitable!
It's not hard to start using either - just watch this short tutorial...
CLICK HERE TO TAKE A VIDEO TOUR

Listen, this tool can literally skyrocket your marketing results. It's an easy-as-1-2-3 solution that puts the power of embedded, viral marketing right at your fingertips! The only limit is your imagination - and, if you still aren't convinced, then try visualizing the following scenarios:
Affiliate Marketing: Create your own video, or select among thousands of relevant, suitable videos available through free video sharing websites. Just match the subject of the video to the product you want to promote, then embed your affiliate link for that product. It's an unbeatable way to do contextual advertising!
Product Launches and Branding: Create a video demonstrating the features and benefits of your latest product. Embed links back to your site or sales page. Watch the free traffic start rolling in!
Lead Generation: Do you run a multi-media ezine or newsletter? Video newsletters are hot right now. Distribute your latest issue through viral video sites, or let your existing subscribers download it and pass it on. Just embed a link to your opt-in page and start grabbing new sign-ups!




P.S. -

If you're still not sure how to use Video Code Maker to make extra money using videos, then visit our

FAQ

or sign up for more information:

P.S.S. -

Your purchase is secure and protected by

Clickbank's 8-week money-back guarantee!

(Clickbank is the online service that Video Code Maker uses to accept payments and deliver the product immediately after purchase.)
Intro price $39 is a limited time offer. Regular price $69

Includes:
Immediate Download
Free Support
Free Updates (Version 1.1 - 3.0)
Secure Ordering
Money back Guarantee




Video Code Maker is a multi-platform Java program. Compatible with Windows, Linux, FreeBSD and Apple Mac OS X. Java programs require java and to be enabled on your computer.
Java is free and available here
http://www.java.com/
FLV PLAYER BUILT-IN TO YOUR CODES
Video Code Maker incorporates FLV Player directly into the codes when making your custom FLV Flash files. This allows you to post your Flash videos to any web page or online service that accepts HTML.